Portable Staging for Schools and Churches.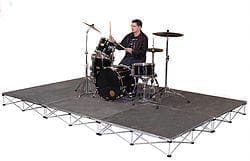 Portable staging for Schools
Intellistage offer a large range of stage packages that have been designed with schools and churches in mind.
Whether it be a basic stage system that can be quickly and easily assembled for school assemblies or performances. Or conductors risers and complete stage systems with stairs, guardrails and storage systems. We have a stage to suit your needs and budget.
When its time to break down you will find that disassembly and storage is equally convenient.
Intellistage is available in packaged basic stage kits. These kits include stage platforms, risers and all the necessary hardware for putting your stage together. Or create your own custom stage!
Heavy-duty staging.
Two height adjustable models.
Built-in stage legs.
Indoor or outdoor use.*
Portable staging for churches
Fast setup and compact storage make Intellistage's modular stages the perfect choice for churches that do not have a lot of space to store a large stage. Yet at the same time, our stages can be configured for large concerts or church assemblies.
Perfect for use as a keyboard riser, drum riser or choir riser. Our stages kits include stage platforms, risers, steps and skirting. Plus all the necessary hardware for putting your stage together. You can choose from several sizes or custom design your own.
Choir Risers and Seated Risers
Staging 101 Choral Risers are constructed high quality plywood and steel and feature a 5 year warranty.
Choral risers are 6' x 18" (1.8mtr x 0.45mtr). What makes Staging 101 risers unique is that straight and wedged sections can be combined together easily to form different configurations.
Choose from 2, 3 or 4 tier systems and create the length to suit your number of choir members.
See our choice of styles here: STANDING RISERS, SEATED RISERS, MOBILE FOLDING RISERS.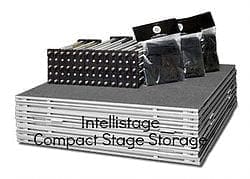 Compact Storage
Intellistage mobile stage systems store in a 1mtr x 1mtr footprint!
Small stage systems can even be stored upright in storage rooms or backstage.
We also offer several stage transport and storage options. Our Staging caster board systems are perfect for both moving an entire stage system for show purposes as well as storage between shows.
Our compact, lightweight flight cases were designed to take the sweat out of transporting a 6 platform stage system. Pop off the lid and insert or remove your platforms.